Ragi is a very nutritional and healthy grain and it is considered a superfood around the world. It is consumed by humans to get immense health benefits. But Can Dogs eat ragi? Is Ragi Safe For Dogs? this question arises. In this article, I have covered all the details regarding this query which will make all your queries disappear. Let's find out.
What Is Ragi (Finger millet)?
Ragi is a type of millet that is high in dietary fiber, calcium, and other nutrients. It has been used as a staple food in India for centuries and is now becoming popular worldwide as a healthy alternative to wheat and other grains.
Ragi is a good source of protein and minerals, and it has a low glycemic index so it does not cause blood sugar spikes. It is also gluten-free, making it a good choice for people with gluten intolerance or celiac disease
Yes, dogs can eat ragi and it is completely safe for them. Ragi is an extremely nutritious grain and can be a good source of energy as it contains high-quality carbohydrates. It is also low in sugar and fat. Moreover, Ragi can help to improve their digestion.
Can We Give Ragi To The Puppy?
Yes, you can please wait till your pet is at least three months old before doing so. Ragi should be served properly cooked and in limited portions to avoid indigestion due to its fibrous nature. So keep an eye out.
Nutritional Value of Ragi
Ragi is a millet that is very high in nutritional value. It is a good source of protein, fiber, and minerals like magnesium, potassium, and calcium. Ragi contains all the essential amino acids needed to make a complete protein. It is also gluten-free and easy to digest.
| Ragi( Serving Size-1cup) | Value |
| --- | --- |
| Saturated Fat | 0.6 gm |
| Polyunsaturated Fat | 3.1 gm |
| Monounsaturated Fat | 1.1 gm |
| Sodium | 4.8 mg |
| Potassium | 267 mg |
| Carbs | 89 gm |
| Protein | 13 gm |
| Dietary Fiber | 4.2 gm |
| Trans Fat | 0 |
| Calcium | 1.3% |
| Iron | 26% |
How Much Ragi Can a Dog Eat?
Ragi is a grain that is high in calcium, protein, and fiber. It is a good source of nutrients for both humans and dogs. However, it is important to monitor how much ragi your dog eats because too much can cause health problems.
Dogs should consume about 1-2% of their body weight  per day. For example, if your dog weighs 50 pounds, it should eat no more than 1 pound of ragi per day. It is important to mix ragi with other foods to ensure that your dog gets the correct balance of nutrients.
Benefits of Giving Ragi To Dogs?
There are a number of benefits to feeding ragi to dogs. Some of the key benefits include:
Ragi is a high-quality protein source that helps dogs build and maintain muscle mass.

It is a good source of dietary fiber, which helps keep dog's digestive systems healthy.

Ragi is rich in essential minerals like calcium, magnesium, and potassium, which are essential for healthy bones and teeth.

It also contains antioxidants that help protect dog's cells from damage caused by free radicals.
Are There Any Side Effects of Giving Ragi to Dogs?
There are nearly no known side effects of feeding ragi to dogs. Ragi is a nutrient-rich food that is packed with proteins, vitamins, and minerals. It is a great source of dietary fiber, which helps improve digestion and bowel health in dogs. Ragi also helps promote healthy skin and coats in dogs, but make sure not to overfeed and it should be given in moderate quantity for a few days(3-4 days) in a week. It is highly recommended to consult your vet before introducing a portion of new food to your pet's diet, as some dogs might be allergic or have a sensitive stomach.
Tasty Ragi Recipes For Your Fur Friend
1. Ragi malt-
Ingredients you will need
 

Ragi flour (1 cup)

Jaggery (ghur)

Milk (½ cup )

 Water (as required)
Steps to make Ragi malt
Take a vessel and pour 1-liter water, add a small piece of jaggery into it and let it boil.

Take another vessel and put 1 cup of ragi and add little water and mix well.

 Then add the ragi slurry to the vessel in which you have kept water to boil.

 Keep stirring it to avoid the formation of lumps.

cook it until it is boiled( for approx 10min)

Let it cool add a little bit of milk to it and your ragi malt is ready to be served
2. Ragi ball –
Ingredients you will need
Water(as required)

Ragi (1 cup)

Ghee(1 tbsp)

Jaggery(½ tbsp )
Steps to make Ragi Ball or Ragi mudde
Take 2 glasses of water in a vessel, add 1 tsp of ghee and 1 tsp of jaggery and start boiling it on medium flame.

Take separate glass and fill it half with water , add 4 tsp of Ragi flour in to it  and mix it to make a ragi slurry.

Now add this Ragi Slurry into the water you kept for boiling earlier.

Now boil the water with the ragi mixture at high flame for 2 min.

Then add 1cup of Ragi flour into the boiling water and do not stir it for 10- 15 min on low flame. 

After this give it a quick stir to form a dough. Now shape it in a round shape and your ragi mudde  or ragi ball is ready to serve.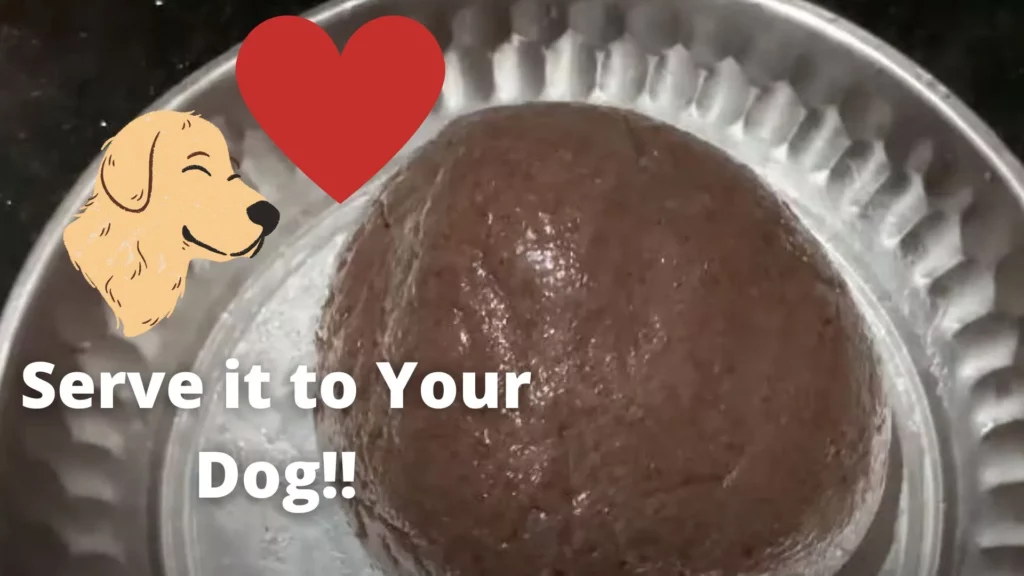 📝NOTE-
You can also add dog food pellets or small pieces of boiled chicken in both these recipes that I have discussed above to make it more palatable for your dog.
I hope I have cleared your doubts about whether  Can Dogs eat Ragi?  However, it is important to introduce ragi gradually and in small quantities, as some dogs may be allergic to it. 
Even If you still have any questions about whether or not ragi is safe for your dog, please comment it down below. 
Also, have a look at –
Alabai Dog Price in India 2022
Chippiparai Dog Price in India