Dogs need shampoo for cleaning their hair coat and making them healthy. There are many available shampoos in the market but the question arises which one to choose? Based on ingredients, effectiveness, no side effects and affordability   Himalaya Erina EP shampoo is the most popular shampoo in the market. But Is Himalaya Erina EP shampoo good for dogs?  Will it pass all the parameters for good shampoo? In this article, I have given detailed answers to this question. Keep reading it to find out.
Himalaya Erina EP Shampoo
Is Himalaya Erina EP Shampoo Good For Dogs?
Yes, Himalaya dog shampoos are extremely good and are also completely safe for dogs. Himalaya dog shampoos are made with natural ingredients and are designed to be gentle on your dog's skin and coat. Himalaya shampoos are also hypoallergenic and will not cause any adverse reaction in most dogs. If you have any concerns about using Himalaya shampoo on your dog, please consult your veterinarian.
The Ingredients in WOW Shampoo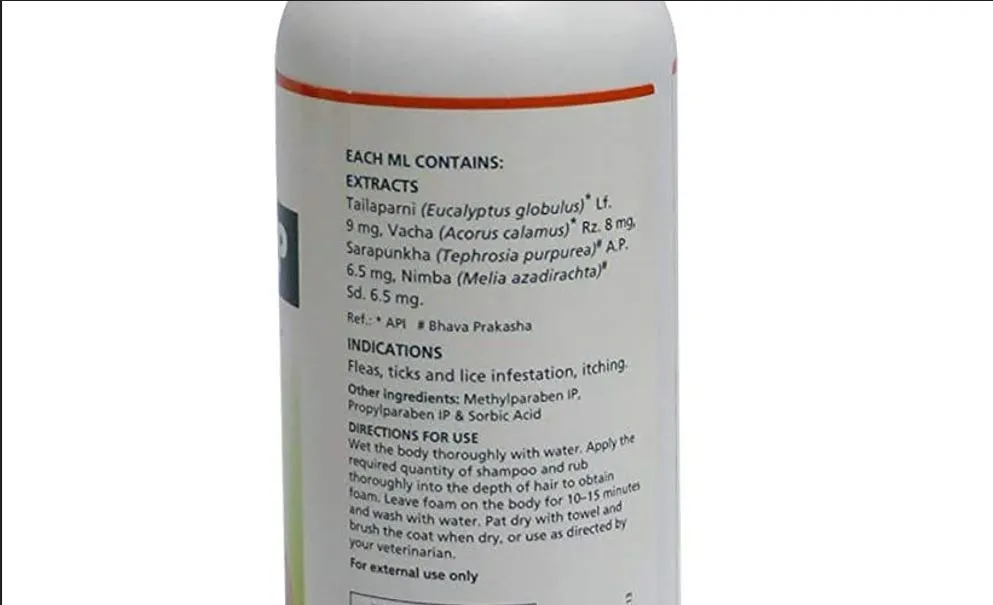 The Himalaya Erina Ep shampoo contains a number of different ingredients that work together to clean your hair and scalp. These ingredients include: 
Tailaparni (Eucalyptus oil)- 
It is a natural ingredient which extremely good for dogs of all ages it helps to relieve skin irritation. Suppresses yeast, fungus, and germs by removing dirt and grime. Additionally, it relieves sunburn, fleabites, and clipper discomfort.
Nimba (Neem)- 
It helps to repel fleas. It also helps to make the hair coat healthy and glossy. It also has anti-fungal properties.
Sarapunkha (Purple Tephrosia)-
 It is a medicinal plant that is used in Ayurveda. It helps to get rid of various skin problems.
Propylparaben IP- 
It is a preservative that is used in most cosmetic products and it is completely safe. It has a role as an antifungal agent and an antimicrobial agent.
Methylparaben IP-
It is also a preservative which is also found naturally in some fruits and it helps prevent bacteria growth and acts as an antifungal agent.
Sorbic acid-
Sorbic acid protects cosmetics and personal care products against spoiling by either killing germs or inhibiting or delaying their development and reproduction.
Himalaya Shampoo and Dog skin
Shampooing your dog is an important part of keeping them healthy and clean. But did you know that there's a special kind of shampoo designed specifically for dogs with sensitive skin? It's called Himalaya dog shampoo, and it's formulated to be gentle on your dog's skin and coat.
Himalaya dog shampoo is made with all-natural ingredients, and it's free of harsh chemicals and sulfates. This means it's safe for dogs with sensitive skin, and it won't strip their coat of natural oils. It's also hypoallergenic, so it's most unlikely to cause any allergic reactions.
If you're looking for a shampoo that's gentle on your dog's skin, WOW shampoo is a great option. It's all-natural, hypoallergenic, and free of harsh chemicals and sulfates.
Himalaya Shampoo and Dog Fur
While it may seem like an odd combination, using Himalayan shampoo on your dog's fur can actually be beneficial. Himalaya shampoo is designed to remove built-up oils and dirt from your scalp and can do the same for your dog's fur. It can also help to prevent matting and tangles. Plus, it leaves your dog's fur looking and smelling great.
So if you're looking for a new way to keep your dog's fur clean and healthy, give Himalaya Erina Ep shampoo a try. Your dog will thank you for it!
How do you use Erina EP shampoo?
If you want your dog to have a luxurious coat, you need to invest in good quality shampoo. Himalaya Erina Ep dog shampoo is one of the best on the market and it will leave your dog's coat looking and feeling fabulous. Here's how to use it:
– Wet your dog's coat thoroughly with warm water.
– Apply a required amount of shampoo to your dog's coat and work it in well.
– Massage deep into the hair until foam is formed.
– leave the foam on for 10- 15 minutes on the skin and then clean it with water.
Now take a towel and pat the coat until the hair is dry now brush the dry hair.
– Repeat if necessary.
Himalaya dog shampoo is one of the best ways to pamper your dog and keep its coat looking its best.
Erina EP Shampoo Side Effects
There are generally no side effects as it mostly contains natural ingredients and has some harmless preservatives. However, you should not use any tick shampoo regularly as it can make your dog's hair slightly rough. Use only when it is necessary we recommend washing your pet's hair with this shampoo once or twice every 1-2 months.
And make sure to consult your vet whenever you are trying new shampoo.
1. Is Himalaya Erina – EP shampoo suitable for all dog breeds?
It can be used on any dog no matter which breed it is. Himalaya shampoo is completely safe.
2. Is Himalaya shampoo good for puppies? 
It is a completely safe shampoo to apply on puppies. But I strictly recommend using it on a puppy who is at least 3 months old.
3. Can we use Himalaya dog shampoo on cats?
Yes, you can also use it on cats without worry.
4. Does Erina EP kill ticks?
Yes, it does kill ticks and fleas very effectively.
5. How many drops need for dog washing using this shampoo?
You could need to use anywhere from three to four caps to eight to ten caps, depending on the size of your dog.
6. Does it reduce the itching of the dog?
Yes, it can solve typical itching issues. Please visit your veterinarian if it's a specific skin issue.
7. Is it Very strong and harsh for skin?
No, it is generally a decent all-purpose shampoo if your dog doesn't have any skin conditions or very sensitive skin.